The Jasmine
The Jasmine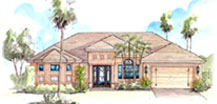 At JJ Staten Homes we are dedicated to bring you the best value for your hard earned money with our newly designed home's, constructed to meet all of your needs and most importantly to meet your desires. We are proud to present the The Jasmine model, designed to take advantage of the local climate we all enjoy so  much in Florida.
This 2,428 square foot model has three three bedrooms and a den, two full baths a two-car garage, and a lanai.
JJ Stanton Homes is a fully Licensed Florida Mississippi Home Builder With over 20 years experience and over 500 completed homes , JJ Staten Homes is proud to continue the same Florida Mississippi Home Builder Take a look at a few of our model homes we have to offer. Constructed  of concrete block and hurricane impact windows allows you and your  family to feel safe, as well as save on your monthly bills. Besides, isn't  that what it's all about. To have you and your family feel safe and have  that extra income every month? These are just a few of the benefits you  receive when you purchase a JJ Staten Home.
Call for Pricing and all of the available options.
For a look at the Floor Plans.